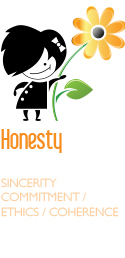 Ethical codes are the behaviors that govern people in an organized society.

It is mainly formed by the pillars of commitment, honesty and respect.
It is necessary to have a new perspective with an integrative vision towards three dimensions; Goods, norms and virtues, a better way to justify any organized project can have a good end result. When the norms are well developed by the people with what they are proposed, they are the consequence of correctly obtaining the unfoldment of the virtues.

To do this, it is necessary to develop the virtues in society that are based on responsibilities through training plans, evaluate performance and highlight values, establishing audits and a regime of awards for compliance and sanctions for noncompliance to transmit and enforce The commitment of their conceptually ethical values.