Exactor BPO participated in EXPOESTRATEGAS 2014 and analyzed
the processes in which there is greater need for improvement in the
insured sector.-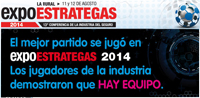 Exactor BPO, the company specialized in the outsourcing of critical business processes, sponsored an adhesion and participated actively in EXPOESTRATEGAS 2014, the XIII Conference of the Insurance Industry. A field of intensive training and professional exchange, held on August 11 and 12, 2014, in the Red Pavilion of La Rural (Buenos Aires).

"During the course of the event we were able to spread our image and achieve a closer relationship with our brand, deepening among the insurance companies the knowledge of the services we offer and making numerous contacts with potential clients of the insurance sector, whom we could explain How we can help them solve their needs, "said Daniel Calderón, Commercial Manager of Exactor BPO.

As part of its participation in the 13th edition of EXPOESTRATEGAS and from a market survey conducted among participants of the event, Exactor BPO executives confirmed that Customer Service and Sales Audit processes are those that must improve and Optimized, and in which there is greater deficit in the insurance sector:
Sales Audit Processes: Insurance industry firms understand that the look of an external auditor is much more objective when it comes to making changes in sales processes.




Customer Service Processes: In all the conversations held by the executives of Exactor BPO with Directors and Managers of different insurance companies, there was agreement to understand that this process must be carried out externally, in order to maintain the quality standards of Attention.
"While Exactor BPO as a process outsourcer has the management and know-how necessary to implement different types of processes, we see that the insurance market needs to improve and optimize these two processes, which are fundamentally aimed at correcting bad sales and To be able to know and solve the different types of doubts that arise in the final clients, "explained Daniel Calderón.

"At present, many insurance companies give very short attention to their clients, and they seem to be afraid to understand them more, for fear that they will drop their policies. On the other hand, whoever understands what insurance is for and has a clear understanding of the scope of his policy, he is likely to hire new insurance and / or perform an up-grade of the current policy to fully protect his assets, "he said. The Commercial Manager of Exactor BPO.
EXPOESTRATEGAS 2014 is the most important conference in the Insurance sector and the business platform that brings together the entire network of players in the industry, where Exactor BPO approached participating companies with their services: Customer Service / Customer Service, Sales Audit , Telemarketing (auditing via eavesdropping and detecting erroneous business definitions and correcting them), Customer Retention Campaigns, Comprehensive Collection Management, Back Office Planning and Execution, Inbound / Outbound Sales, Surveys, and IVR / SMS Campaigns / Mail.
For more information: www.exactor.com.ar/