Exactor BPO will be present at EXPOESTRATEGAS 2014.-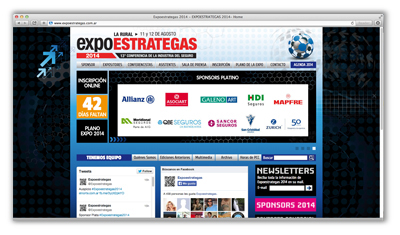 Exactor BPO, the company specialized in the outsourcing of critical business processes, will participate actively in EXPOESTRATEGAS 2014 (http://www.expoestrategas.com.ar), the XIII Conference of the Insurance Industry, a field of intensive training and exchange Which will be held on August 11 and 12, 2014, in the Red Pavilion of La Rural (Buenos Aires).

EXPOESTRATEGAS 2014 is the most important conference in the Insurance sector and the business platform that brings together the entire network of players in the industry, where Exactor BPO will be bringing its services to the participating companies: Customer Service / Customer Service, Audit Sales, Telemarketing (auditing via eavesdropping and detecting erroneous business definitions and correcting them), Customer Retention Campaigns, Comprehensive Collection Management, Back Office Planning and Execution, Inbound / Outbound Campaigns, Surveys, and IVR / SMS / Mail.

In the 2014 edition of EXPOESTRATEGAS recognized members of the insurance industry, they will analyze topics of importance and topicality for the sector.

In this sense, the General Manager of Exactor BPO, Sergio Flecha, stated that one of the central issues currently being analyzed in the Insurance sector is customer service. Regarding the complex and varied range of services offered by the Argentine insurance market, adequate levels of advice should be sought, in order to ensure that, in accordance with Resolution SSN 38052, the Argentine Superintendency of Insurance, Assistance and ongoing consultation for insurance users, promoting the constant professional training of human resources. "

"The resolution raises its concern for the protection of users, transparency in operations and the professional training of the individuals involved in them," said the General Manager of Exactor BPO.

"The risks of developing customer service processes, inefficient or without adequate control, can be so decisive for the evolution and future of a company, which is as imperative as vital, to strengthen and evaluate them," said Sergio Flecha.

Exactor BPO will participate commercially in the conference with an adhesion.