Exactor BPO renews its corporate portal to optimize communication with its current and potential clients..-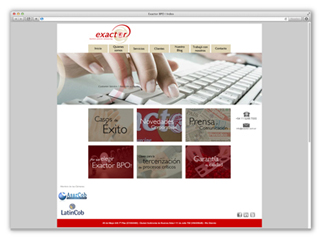 Exactor BPO, a Business Process Outsourcing (BPO) company, with extensive experience gained in the definition and execution of processes for companies from different sectors and industries, has launched a new version of its institutional website.

One of its main objectives is to optimize and improve communication with current and potential clients of the company, adding services and added value.

The new portal offers among its novelties a space in which the various calls related to job opportunities offered by the company will be published, offering the applicants the possibility of entering their CVs and personal data, with the security of being sent directly to the Selectors.

From the institutional web you will also be able to access the Exactor BPO blog, an environment in which articles of analysis, reflections, trends and market information will be published by the company's expert executives.

It will also be possible to consult cases of success developed by the team of Exactor BPO and announce the presence of the organization in the media.

Also, the interface of access to services that Exactor BPO offered to an increasingly demanding market was optimized:

- Customer Service
- Sales audit
- Customer Retention Campaigns,
- Comprehensive Collection Management,
- Back office,
- Sales
- urveys, and
- Sending of IVR/ SMS/ Mail.

"From Exactor BPO we seek to consolidate ourselves as one of the leading companies in Business Process Outsourcing, contributing our experience in methodologies of process management, and providing as added value the development of continuous improvement processes," said Sergio Flecha, General Manager of Exactor BPO , On the occasion of the announcement of the launch of the new institutional website.